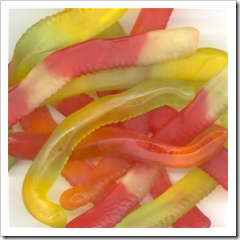 Ok, I'm lame for writing yet again about Halloween, but heck, I think it is a fun holiday. I've just posted a few halloween recipes for cookies and things over at my culinary blog. The key to great halloween recipes and treats is to have goulish sounding names for the treats. For example:
Dead Worm Tea– Actually just a halloween recipe that involves freezing gummi worms in ice cubes.
Bloody Eyebal Cookies – Just another halloween recipe name for red m&m chocolate chip cookies with red food coloring mixed in.