Yes, Halloween is coming soon so figured I would push some Halloween costumer ideas your way.  Why would I do this? Well why not?  This is my chance to get listed in the search engines for Halloween costume ideas AND for me to get some kind of commission from it all.
I've found some really cool ideas over at HalfPriceCostumes.com
that will certainly get you giggly. 
Betty Rubble Costume- Now this is interesting.  Nice costume, but why would any woman wear that mask? Is the huge bedrock-styled medallion just not convincing enough? Still, they do have some cool costumes for the ladies.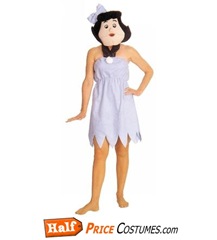 Picking out the right costume is tough enough, but then buying it and seeing what you have to pay for shipping just kills me.  Allow me to introduce my super discount power buying icon that will give you Free Shipping on Halloween costumes.
Yes, you heard right.
HalfPriceCostumes.com
also has a cool selection of costumes for pets, in particular, Dogs.  I've also collected a number of funny dog costumes in the past:
I've posted a few more cool costumes over at LinkStink.com if you are interested.