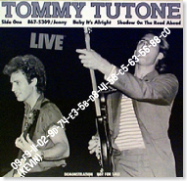 Since getting a new record deal with Spectra Records this year, Tommy Tutone has been quickly flexing their creative juices to come up with a follow-up hit to their 1982 chart topper, Jenny (867-5309).
Trying to keep hip and up to date with the innernet, blogs, emails, computer modems and hard drives, the band's front man Tommy decided that it was time to re-do their old hit as 09-f9-11-02-9d-74-e3-5b-d8-41-56-c5-63-56-88-c0 (Kevin).
During an interview this past weekend, Tommy had hinted some strange significance of the number to a new concept being used to record 8-track tapes.
Let's hope this new tune brings life to the band and creates a huge and new fan base.