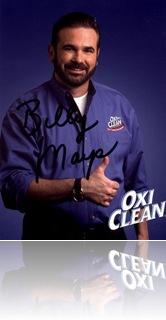 Billy Mays died today! What the heck.  My favorite Oxyclean dude.  Gonna be missed.  I really like Pitchmen!
Mays was found unresponsive by his wife in his Tampa, Florida home on the morning of June 28, 2009. He was then pronounced dead at 7:45 am, appearing to have died sometime overnight. The Associated Press reported that there were no indications that the house had been broken into, and that police did not suspect foul play.
Mays had been aboard US Airways Flight 1241 from Philadelphia to Tampa that blew out its front tires as it landed at Tampa International Airport on June 27, the day before his death. None of the 138 passengers and five crew members were reported to be seriously injured immediately following the incident, but several passengers reported having bumps and bruises from falling objects. Mays told a local Tampa television station that some of the objects "hit me on the head, but I got a hard head."It is unclear whether Mays' death was related to the incident.