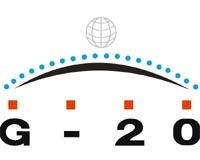 Pittsburgh will be playing host to the G20 Summit this September.  I have to say I am pretty excited and can't wait to see the influx of international types to Pittsburgh.  What is nice is that from Brady Communications, we have a nice bird's eye view of the crowds and protestors that plan on gathering during the G20 summit. 
The G20 Summit, Pittsburgh or other place, is actually the Group of Twenty Finance Ministers and Central Bank Governors that was established in 1999 to "bring together systemically important industrialized and developing economies to discuss key issues in the global economy."
What is interesting about Pittsburgh is that the city hasn't experienced the same economic issues in housing, jobs and other issues as the rest of the country.  Pittsburgh has already gone through all of that back in the late 70's early 80's and knew how to tackle those issues to remain strong.
If you are up for reading more about he summit here in Pittsburgh, I suggest checking out the Pittsburgh G-20 Partnership website for more info.