Today is the birthday of Dr. Seuss, also known as Theodor Seuss Geisel.  So what does Dr Seuss look like? I really dig the Google Logo for the day.  Some of you are probably wondering, what does this guy look like? Previously I've posted pictures of the guy, as well as other authors.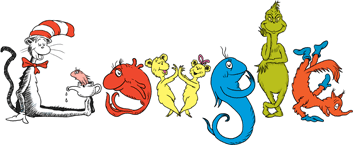 I've decided to repost an excerpt from the previous post with a picture of Dr. Seuss.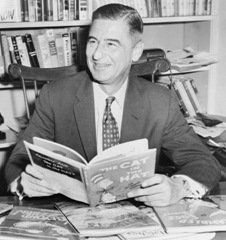 Cat In the Hat – Dr. Seuss (Theodor Seuss Geisel).  I'd never hear the end of it if I didn't put something in here about the Cat In the Hat.  Probably one of the most popular children's books writers ever, it is funny to know that his real name is Theodor.  I've always known that his books were written years ago, but I found it interesting that he died in 1991…not too long ago.  Heck, I was in college.
So what does Dr Seuss look like?
He published more than 60 children's books…a pretty amazing accomplishment.  An interesting fact: He joined the Army during WWII to work in the animation department of the Air Force, where he wrote Design for Death, a film that later won the 1947 Academy Award for Documentary Feature.
If Dr Seuss were still alive today, I'm sure he would be helping folks with the next Transformer's movie or the next Batman Movie.  Or maybe even the next Lego movie. Those would be great for sure.
It is amazing that Dr. Seuss was also known for making some cool, government issue type of toons.  Know that you know what he looks like, it is hard to think that this guy wrote Green Eggs and Ham. He was a very talented person indeed.