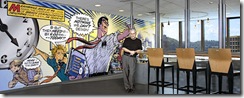 I'm so glad to be back into the swing of things in the marketing communications realm.  I've got to tell you that I am totally impressed with Brady Communications.  I'll be working on some cool and impressive things…right here in Pittsburgh. 
Also, for once I can actually tell people what my job is.  I'm a web strategist for a full-service national marketing communications firm that actually does much more than a typical design firm or ad agency.  It is also great to work on projects outside of Pittsburgh!
So now I'm off to work on some great, creative, branding…all things marketing communications…projects!  My favorite so far, Tippmann Sports! If you are in to paintball, then you MUST visit Tippmann.com for sure.