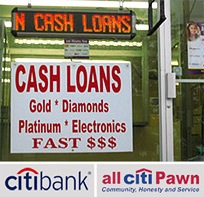 I was looking at the latest trends in searching over at Google trends and I see that pawn shop symbol is volcanic.  I was just wondering, who can tell me why this actual phrase is so hot? 
I do know that pawning is popular and is used by people to act as monetary loans, but I still don't understand why it is so popular at the moment. I did find something interesting though:
I just read that Citi is suing a pawn shop in Brooklyn for ripping off their logo.  Now you are probably thinking, why would the big Citi want to spend thousands of dollars on lawyers because of some little pawn shop symbol that looks like theirs?  Well, look at the picture…trade marking is everything in the in regards to brand identity.  Since the pawn shops is a version of bank lending, I can understand why Citi is so angry. 
Looks like the pawn shop is going to have to pawn some of its own assets all because of their pawn shop symbol.