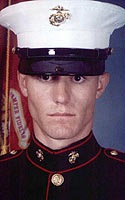 I had no idea who the guy was, but thought it had to be something about a relative of Michael Phelps (you know, because of all the recent pot smoking stuff about him).
To my surprise, Chance Phelps was a Private First Class in the Marines and was killed in Iraq as the convoy he was escorting came under heavy fire.  HBO thought is was such an extraordinary story that they made him the subject of a new movie called Taking Chance.
I'm writing about who Chance Phelps was because the search term was ranked pretty high over at Google Trends today. 
Anyways, after Googling a bit, I found that Chance Phelps has nothing to do with Michael.  But I also found that the movie Taking Chance was selected for showing at the 2009 Sundance Film Festival and premiered on HBO tonight.  Too bad I missed it, the story about Chance Phelps sounds very interesting for sure!