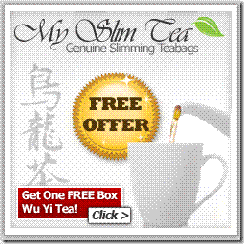 Holy cow, I've put on so much weight this past summer…mostly from going to parties, eating food that my kids refused to eat…eating more food, etc…I've also been striving to being the sexiest man alive so it is extra important for me to lose some weight.
But, all is not lost.  It is weird for me but I tend to lose weight in the winter time.  I do so drinking an awesome tea called Wu-Yi tea.  I don't know how it works but it sheds fat like I shed my PR.
My Slim Tea is giving away 60 free tea bags, all Wu-Yi tea. All you have to do is pay for the shipping, which actually is less than a Lipton package of Earl Gray tea (one of my favorites).
You can order your own box here.  Let the fat burning begin.  Forget Wu Tang Clan…ALL HAIL Wu-YI Clan!