Recently I've been on a retro computing kick.  I don't know what it is but I am always amazed to see how much stuff you can pull out of a machine from the early 80s.  The retro computing scene is running full-speed around the world.  People are coming up with new games for old platforms like the Atari, Coleco, Commodores and others.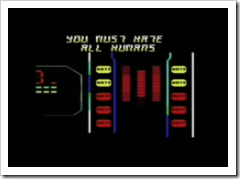 After muddling around a few retro computing sites I found something that made me stop and drool (Get your mind out of the gutter, I'm 100% geek)…a guy who claims to have made the Commodore Vic-20 talk with no extra hardware.
For those of you who don't know, the Vic-20 was one of the most popular and powerful computers released in the early 80s.  This thing was a total powerhouse: 3.5 K of RAM, 1 MHZ (yes <MHZ, NOT GHZ) 6502 CPU, 22X23 character display, 176X184 pixels and 16 colors.
So back to the graphics and sound demo.  The one I am speaking of is "Robotic Liberation" by Pers' Wastaieset Productiot.  This demo placed first at the Assembly party in 2003…27 years after the Vic-20 was released to the public.

The whole thing runs on an unexpanded Vic-20 and the story line is a bit creepy…just watch the video as the story unfolds.  The music is excellent and the "voice" is just so strange that it is awesome.