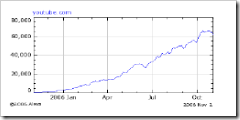 Not to long ago Geoffrey Mack over at Alexa put up the latest Alexa traffic graph for YouTube.com and made the observation that YouTube's traffic has gone flat. His only explanation was that this trend had started at the same time Google announced the acquisition of YouTube for $1.65 billion in stock.
How could something like this deter users from visiting YouTube.com. I mean come on. That is pretty presumptuous and coincidental if you ask me. I would look at other factors during this time suspect time period. Just look at the facts:
People were getting ready for Halloween
Firefox 2.0 was coming out
IE 7 was released and people blew away the Alexa toolbar with the new MSN toolbar.
So is YouTube really tanking or is Alexa just showing off its flaws again? Only time will well. Now if we start seeing more "transparent" advertisement videos then before then we can say that yes, YouTube is going down the tubes. But if things continue along and I can still find funny videos of old rock bands looking cool, then we can say Alexa is just flawed.