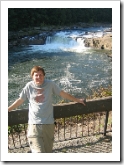 Recently my cousin Matt had a few questions for me about starting up a Website. I'll share with you his question and my follow-up answers. I'm sure many of you on the web run into these same questions from your relatives as well:
Hey cuz,
i'm workin on a web site and was wondering if you had suggestions to easy to use web design software for dummies like me. I downloaded this program called Web Studio 4.0 (30 day trial). seems very easy, i like it so far, but im open to suggestions. Also, not sure how to get listed on search engines (but i'm not even close to being ready to worry about that yet). any help or advice appreciated greatly.
thanks cuz, matt
Matt brings up some good but always asked questions about starting a website. First what program to use and second, how to get listed in the engines.
I've replied to him with a general overview of how to approach this.
Here is the thing with web design software…if the software works for you then it is a good piece of software! I prefer to use Visual Web Developer 2005 from Microsoft for my stuff, but probably the most popular web design program is Adobe Dreamweaver. It can be expensive, but they do have a 30 day trial on their website to download.
And as far as getting listed in the search engines, well many things factor into that! You could be in a very competitive market, so what you have to do is write the text (copy) for your website to be focused on a a certain target.
For example, if you are trying to sell a certain product, you may want to talk about this certain product as it relates to your specific audience or where you actually live.
You want to sell X-10 equipment
Type X-10 in Google and you will find 84,900,000 search results related to that, so what you want to do is "focus." For instance:
X-10 Installation Service
Even with that there are over a million visits. So let's dig a little deeper:
X-10 Installation Service in Uniontown
This term only shows about 480 results.
Not many results at all, but this targets a more specific "niche." One that you potentially profit from a not very competitive term.
But search engine optimization is one thing, but another is just getting sites that are well respected in Google (look up Page Rank on Wikipedia to see what I mean) to link to yours.
BUT these sites should some how have a related subject as yours.
You can do this by posting messages in forum type sites that allow you to put a signature (which could contain a link to your site). After a while your traffic will start moving closer to the top in the search engines.
Other techniques I uses are social bookmarking sites such as Digg.com and StumbleUpon.com. These work really well for getting the word out.
There you have it, my quick and dirty Search Engine Ranking 101 course!