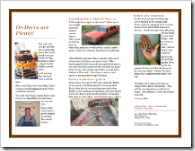 Yes, it is amazing how quick Mothers Day showed up this year. The typical mail thinks contemplates getting his wife a gift, all the way to the actual date of Mothers Day. Sometimes maybe all the wife needs is a good laugh. Of course if you think that then you will be sleeping on the couch again.
At any rate, some of the more popular gift ideas guys are getting their wives as gifts are:
Flowers
Chocolates
Pedicure/Manicures
e-cards
A weekend at a spa or bed and breakfast
All great ideas, but some need more planning then others. Again, I will bring up the fact that some wives just need a good laugh as a gift for Mothers Day. I will share with you a really creative brochure that I put together as a gag gift for my wife's last birthday.
This is a funny and hilarious brochure to a redneck bed and breakfast package. I must say it is one of the most entertaining things I've ever put together: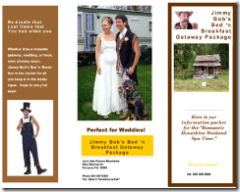 Now this is a 3 panel fold, double sided PDF, so what you do is print it out…then flip the paper over and place it back into the printer to print the other side. Next let the ink dry and then fold the pages over to make it into a brochure.
So, if your gift will be something like a day spa or bed and breakfast weekend, make sure you print out this brochure and give it to her first as a gag gift. Some humor could earn you some brownie points, especially when she realizes that you still forgot to send flowers. Oh well 🙂
More Mother's Day Gift Ideas: