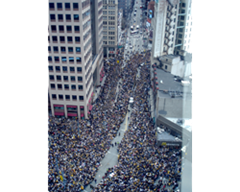 The Pittsburgh G20 summit is only 8 weeks away and I am still excited to see how things turn out.  I hope the weather in Pittsburgh improves by then…but still, I will be in the Brady Communications office watching from above.  We had an incredible view for both Pittsburgh Steelers parades.  I know the summit will be held at the convention center, which is quite a walk from us, but I'm sure there will be plenty of things happening at The Point as well.
President Obama actually invited the Netherlands to the Pittsburgh G20 summit. 
Obama says ""We think that the Netherlands not only is one of the world's largest economies and most active internationally, but (the) prime minister has very specific expertise and experience in working with a whole range of world leaders."
I think Dutch Prime Minister Jan Peter Balkenende will be impressed at what Pittsburgh has to offer…I'm sure he'll agree that selecting Pittsburgh as G20 summit host was a great idea.