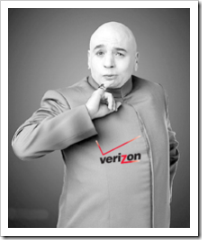 Well I can actually say that Vonage is gone for good in my household. Yes, I did post my temporary fix of the consistent hang-ups problem in post Vonage Connection Problems Solved by Switching Cordless Phones, but after about 5 days the problems came back. I'm a bit miffed by this because the 5.8 Ghz phone I bought is pretty ugly and looks like the cell phone used by Julia Roberts in Pretty Woman.
Well, today I have Verizon coming to my house to turn on a land line. Yes, I feel like crap because I've been a Vonage customer simply because of my disdain for Verizon. But now I'm stuck.
The straw that broke the camel's back was when I needed call 911 for an emergency and could not keep the phone connected for more than 5 seconds. I had to leave the house to find my celophane to make the call again to 911. This could have been a big problem.
So for me, yes, Vonage is leaving. But you know, I don't feel so guilty considering that Vonage has been found guilty of patent infringement in three cases with Verizon. The decision requires that Vonage fork out 58 million dollars.
You can only bet that Vonage will pass this new expense on to their customers. Say bye bye to 29 dollars a month.
I'm willing to bet that Vonage would eventually be consumed by Verizon to help extend the offerings of their own VOIP service, Verizon VoiceWing.