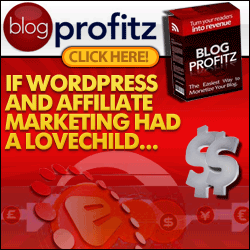 As you know, I don't promote many products. Frankly, most aren't worth the time. But, every now and then one comes along that REALLY blows me away.  Ok, maybe I lied just a bit, because you know I DO promote quite a few products…this one however is stinking awesome.
Many of you are in the business to blog for profit, but can't find the time to post those articles.  Well, this tool does it for you.  All you need is a WordPress blog, a few affiliate links and blammo, you've got instant aggregate WordPress blog, complete with your plugged in affiliate codes…on autopilot! This is easily the most profitable tool I've seen all year.
BlogProfitz was launched a month ago to a select group of marketers. These marketers ranged from total beginner to genuine expert. I've been using it over on http://japanese.emailfriends.com to supplement my posts with affiliate links and I've got to say that it is working!
If you have a blog:
BlogProfitz enables you to add a completely new level of monetization to your blogs – earning more the traffic you already have.
If you're an affiliate marketer:
BP is the fastest way I've EVER seen to develop new traffic/revenue sources.
As you'll see on their site, BlogProfitz takes 5 minutes or less to fully monetize and build an affiliate blog. Literally. This is not a flagrant misrepresentation or a statement to just sell you on the system. It really is that fast.
BlogProfitz will…
1. Add thousands of targeted affiliate products to any WordPress blog, fully monetizing your site in less than 5 minutes.
2. Display targeted videos, articles (from our private database of 15k) and news to your blogs for more content and reader value.
3. BP is integrated with with CommissionJunction, Clickbank, Affiliatebot, Amazon, eBay, YouTube, Regnow, Overstock, Paydotcom, and more.
4. BlogProfitz can be used on any blog, new or existing.
I've never seen any tool so easy to use, of such a simple concept, that makes such a profound impact on its users' businesses.
BlogProfitz is helping its users earn more right now. They're earning more from the traffic they already have, getting more and better search engine rankings, increasing their websites' value, increasing readership, increasing retention, increasing traffic, giving their readers more and making more money because of it. They're doing ALL of this with 1, simple service. It's happening right now. And it could be happening to YOU.
Grab your copy today and see how quick and easy it is to automatically post articles to your blog and to make the cash you've been expecting with it from affiliate marketing.