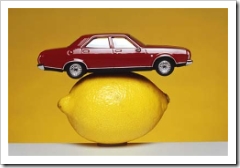 Just a quick post to introduce a a new project of mine to blog about Lemon Laws. I actually know people who have been through the whole process of getting their car qualified as a lemon. Learning from them I decided to create a site devoted to Lemon Laws.
But I didn't want to just leave it at that. I wanted to start from scratch with all of the techniques of properly "SEOing" a website. My check list is this:
Use Word Press
Write a blog post here to get things spidered
Add Google Analytics code.
Turn on Custom PermaLinks so that my URL's contained the key phrases
Modify the header.PHP file to swap the wording around to reflect the blog post
Install the home page control plugin to maintain a static home page
Add links relates to lemon law subjects
Add the sitemap builder
Add Adsense Injection to help me make some cash from this venture
Wire an article about lemon laws and post it to ezinearticles.com with a link to this new site
I'll let you know how the progress goes with my lemon law site. I know it sucks that I have it as a subdomain of a totally unrelated subject blog, but what the heck.
Let's just throw that strangeness in to see how the search engine listings grow.