Recently I've been challenged to get first page listings in Google for the term Jordans. I don't know if I can do it considering that there are quite a few shoe sites already listed for Jordans. But listen, I don't really want to talk about shoes. What I would like to talk about are the many Jordans that exist in the world.

First of all I love the country Jordan. Why? Have you ever seen the Queen of Jordan? Queen Rania is simply hot and should be a super model instead of a Queen. I'm willing to bet that she wears shoes and sneakers that are gold plated.

Another Jordan that comes to mind (and probably one of the more famous Jordans) is Jordan Knight from the New Kids on the Block. One of my most hated groups ever to record an album. "Oh Oh Oh OH Oh..My shoes suck!" Those guys didn't wear Nike Air Jordans, they prolly just wore silly Adidas like Run DMC.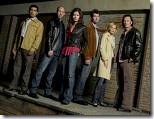 If you are a fan of silly TV, then you probably like the show Crossing Jordan from NBC. According to Wikipedia, "Crossing Jordan is an American television crime/drama series that aired on NBC from September 24, 2001 to May 16, 2007. It stars Jill Hennessy as the crime-solving medical examiner, Jordan Cavanaugh. "
The show uses an ensemble cast approach featuring a group of Jordan's co-workers, members of the Boston Medical Examiner's Office and police detectives assigned to the various cases. It was created by Tim Kring. The title references the biblical metaphor of the ancient Hebrews crossing the Jordan River, commonly used in spiritual songs to represent death and passage to the afterlife."

Did you think I would write a blog post about Jordans and not mention the most famous of all, Michael Jordan? Well, since I want to write about shoes, let me just say a few things about the shoes made famous by Michael Jordan, the Air Jordan. "Air Jordan, also known as Air Jordans, Jordans, Js or AJs, "Mikes", or "MJs" are a brand of shoes originally worn by Michael Jordan. They are currently made by the Jordan Brand which is owned by Nike, of course.
Even after Jordan retired from basketball, there have been new editions released each year.
So there you have it, my super post about Jordans. Be sure to tell your friends.