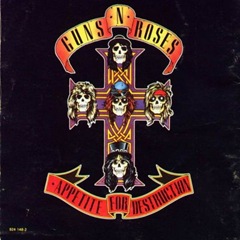 I know you are thinking, Tony, why are you thinking about this stuff? Well, I was actually looking through Google and trying to see where the Brady Communications Buzz Newsletter (Think Further) was ranking in the SERPs.
Turns out, we are number one. I then decided to think about the type of search volume that phrase was getting. Turns out, not much, but what did show up as synonyms was a listing of variations of a phrase containing the word think.
The search volume for such phrases as thinking about you, when I think of you, I think about you are just incredible (all over 200,000). I wanted to see what kinds of pages are being listed for the phrase containing think about, so I Googled think about and came up with some sites that stirred some fond memories:
Guns N' Roses –Think About You Lyrics…Great song, I totally forgot about it.  I can't believe that song is over 20 years old now. I can still hear Axel belting out the ending: "I think about you uuuueuueuuuu yeahhh"
So there seems to be quite a few songs with lyrics containing the think about phrasing.  If you know of any other songs, or have favorites containing that phrase, feel free to THINK ABOUT IT and post them in a comment.