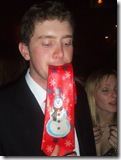 I'm sure dad is sick of getting that horrible tie for Christmas. Time for a new idea. Time for something that he could actually use. How about a webcam? He always says that you never call him, so why not set him up with a new webcam and Skype?
I've found a great deal on the Microsoft VX-1000 The Total Connection Wired LifeCam
at J&R Computer. This thing is nice because if comes with a built-in microphone. Pretty convenient because it is one less piece of clutter for the desk.
This gift idea for dad has a nice 640X480 resolution so images and video are clear. Also, USB2.0, 30 frames per second, flexible 6-foot cable.
Your dad will be thrilled with this gift when you dial him up with Skype and say Merry Christmas! Woowhoo! Hope dad doesn't read this blog…he still enjoys suprises.
More Gift Ideas for dad: