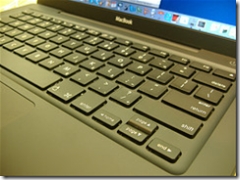 Or atleast it appears to have hired Radio Shack to design their latest MacBook. I mean, come on…what is the deal with that chicklet looking keyboard? All of you Mac freaks who just drool over every design that Apple ever releases are in complete denial or on drugs if you think the new MacBook is cutting edge.
I guess this proves that yes, even Mac, the computer that is supposed to be more creative than the PC can come up with the Edsel, Pontiac Aztek or Ford Fusion. Remember the toilet seat MacBook?

Is the Macbook just a nod to retro design?
Ok, so what about my claim of Apple hiring Radio Shack? Well take a look at the following picture. Yes, kinda looks like one of those photos you've probably seen in an out-dated college textbook on information technology. This is actually the Radio Shack TRS-80 computer from the early 1980's. Nice keyboard design. Those things were so cheap to manufacture because they didn't need to spend money on springs and other mechanics in those keyboards.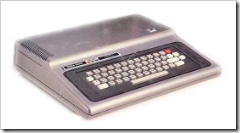 )I remember Tandy nerds whining and complaining that their chubby fingers were having difficulty typing their online D&D character names on the little keys.) Tandy soon jumped back to regular sized keys with the CoCo II and CoCo III.
One can draw a conclusion with this new Apple design…they are losing money and getting a sinking feeling in their stomachs, worried that Microsoft's and Dell's
portable mp3 players will eat up their market share…heck who knows what the next Ipod will look like. If the new MacBook's keyboard is any indication, I'm willing to bet the next iPod will come complete with wireless headphones and a mullet.