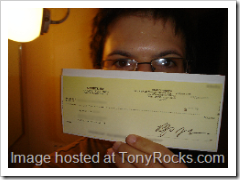 As promised, here is proof of my super earnings from Adbrite.com. Keep in mind that this is my first payment since November of 2005. I figured I'd wait about a year to collect.
Move over Adsense, my new true love is Adbrite!
This super payday is for $7.09. That is alot of tacos if you ask me!