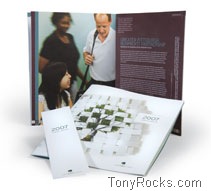 I didn't realize how important annual report cover design was until I started working for a marketing communications company.  Sure, the annual report is one of the most important tools in investor relations, but from a non-investors perspective, what good is it? This is where designing a cool annual report comes in. 
The annual report must reflect a company's values, yes, but lets take the boring factor out of it.  Let's create some unique and innovative cover designs that will be the talk of the town.  A good annual report cover design, in my opinion helps non-investor types appreciate how meaningful the report actually is.
With the advent of reducing paper, annual report design has gone a step further…web versions.  Brady Communications has won a few awards for their awesome and unique traditional print annual report cover designs, but their design expertise doesn't stop there.  Brady is also a top-notch web design shop, so you can expect them to create unique print and Web reports that communicate complex issues and messages to stakeholders.
They also have a cool and extensive portfolio of annual report cover designs here.